The daily schedule view is handy to view your guest counts (if we pull guest counts for your POS/ location) by the hour as well as visually see the staffs overlap. 
1. Prior to the guest count, Push inputed a labor guide to outline the number of labor/positions based on guest counts eg.
0-30 guests = 1 server, 1 host, 1 cook
31-50 guest= 2 server, 1 host, 3 cooks 
2. Select the Daily view.

3. To view the guest counts, turn on the cost and select "breaks" if you want to see the breaks.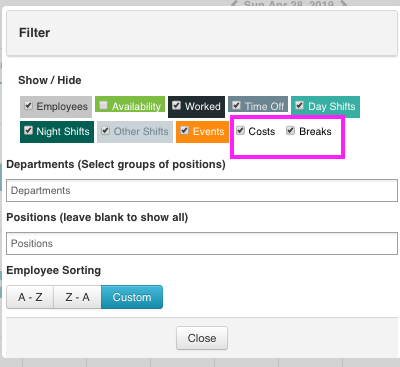 4. You'll see the guest counts (based on the formula that the client provided eg. last years guest counts +/- trend). Also in numbers below are based on the labor guide against the guest counts. You can see when you exceed the labor guide 4/3 it means you over-scheduled by one.