Employee attributes can be used for things like distinguishing between a part time or full time employee, or adding a Serving It Right Expiry Date.
Please note: Currently only Super Administrators have access to this setting. They are the only ones who have the ability to add attributes, and fill out the information in the employee's account.
To add employee attributes to your account, the steps are as follows:
Go to Company Setup
On the left hand navigation bar, select "Employee Attributes"
To add a new attribute, select the blue "Add New Attribute" button
Next, fill in your desired information.




For example: if you wish to mark the employee as full time vs. part time, you can either use the true/false box (the first box (orange) is no, check both boxes for yes) or you can use the text box (blue).




Go into Employee's profile (Employee tab, select pencil icon)
Check off the applicable employee attribute as certain attributes may not apply to the employee.
Enter in details in the blank box.
Scroll down the the employee profile and select update.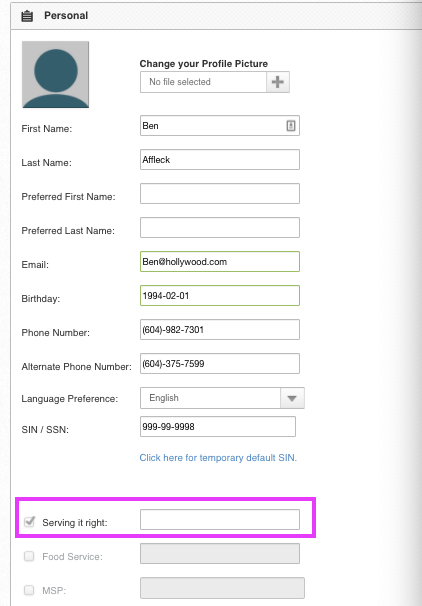 To view these attributes on a report, you can run the Employee Information Report and select your desired attribute(s) to review.